______________________________________________________________________________________________________
Banyon Data Utility Billing bills for unlimited service types: water, sewer, gas, garbage, electric, cable television, phone, re-connect fees, taxes, etc. Simply create a service and rate for an item you want billed, then attach to a customer record, it's that easy. Flexibile billing cycles and schedules can be setup to accomodate even the most complex billings. Furthermore, the state of art design allows for fast lookup regarding customer inquiries on bills and history.
Service Order Management Module
Banyon Data Fund Accounting will help your organization become more efficient by enhancing your budget tracking & reporting capabilities. Our full featured base package includes: Payables, Receipts, General Ledger, Check Writing & Reconciliation, Budgets, Project Tracking, & Report Writing.
Whether your payroll is for hundreds of employees or just a handful, our Payroll application will streamline your payroll process. A Step-by-step checklist and our warning wizard help ensure a smooth payroll calculation.
Point of Sale (cash receipting)
Used at the front counter and will eliminate the hand writing of receipts. Point of Sale (POS) is interfaced to Fund Accounting, Utility Billing, and Property Management. All transactions taken in through POS are transferred to the correct program and typically posted during end of day process. This software will save time, money, and dramatically improve efficiency with the way transactions are processed.
Property Management / Community Development

Banyon Data Property Management will help your community track information about properties like: Legal descriptions, Building information (bedrooms, baths, sizes), Zoning information, Owner information, and violations. Modules can be added to help track permits, licenses, cemetery records, property tax, and pet license.
Report Writer
One of the best features of our software is the reporting capability. Each Banyon application has a user friendly report writer with standard reports already created for easy printing. However, if you want to modify or create new reports, simply choose from the options. Your reporting is virtually unlimited!

Report Writer Highlights:(Sample Reports)
Filter or drill down to specific data. Filter for certain funds, departments ,date ranges or exclude certain amounts or codes. Use many different filter techniques like <,>, = or "between" for date ranges.

Save any report with your filters. Ex.) Police Budget report.

Group, sort, and total by any field. Ex) Total by fund and department.

Change font size on any report or double space the report.

Bold or highlight a column to stand out for the council or board.

Add Report titles & Sub Headings explaining what the report is showing.

Preview report on screen, export to Word or Excel.

Create Month end, Quarter end, Yearend categories. You can also add your "name" as a category and save reports to it.
Business Partners We Trust and Recommend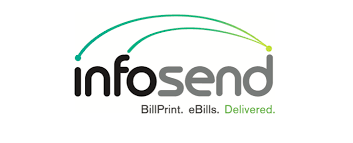 Infosend service for printing and emailing utility bills and statements
___________________________________________________________________________

Xpress Bill Pay Features Brochure / Xpress Bill Pay Setup Instructions
Xpress Bill Pay's online payment management system integrates with Banyon Data software, giving your customers an easy and convenient way to pay online, via mobile app, or over-the-phone, while being pain-free and efficient for you. Your customers are able to go paperless and view bills online, make one-time payments, setup recurring automatic payments, and receive email and text notifications when new bills are available and payments are made. Your staff is able to receipt all utility and non-utility payments, electronically receipt bank bill pay checks, and generate extensive reporting for bank reconciliation, transaction management, tracking customer usage, and much more.
_________________________________________________________________________________
Banyon Data and PSN| Invoice Cloud Partner Brochure
PSN | Invoice Cloud Data Sheet
For 10 years Banyon Data has partnered with Payment Service Network (PSN) to bring you the widest suite of payment, billing and communication services. PSN has the customer notification email alowing a payment link directly to their payment center from an email. PSN can capture any payment from any channel and consolidate them for automatic posting into your ledger. You can now easily accept ACH, credit/debit cards, money orders, echecks, paper checks and even cash. PSN provides solutions for online payments, automated/live phone payments, payments coming through bank bill pay systems, scanned paper checks, swiped credit cards and more.
____________________________________________________________________________
AllPaid Formerly GovPayNet
GovPayNet is now AllPaid. AllPaid is a category leader and a solution-oriented processor of credit and debit card payments to government agencies. Overall consumers rely on us in making more than 2.2 million payments annually to over 2,300 agencies in 35 states. Our twenty years of service to government agencies demonstrates our commitment to superior innovative payment solutions. We are a Securus Technologies Company. (888) 561-7888 - This email address is being protected from spambots. You need JavaScript enabled to view it. GovPayNet.com
_______________________________________________________________________________
Kotapay is a leading provider of ACH and Credit Card Processing. Automate accounts payable/receivable, simplify the collection of bills, reduce administrative costs and streamline reconciliation while enhancing cash flow by utilizing Kotapay. Unlike other ACH processors, Kotapay is a division of First International Bank & Trust, providing the security and soundness of a financial institution. Learn more about Kotapay by calling (800) 378-3328 or visit www.kotapay.com.
______________________________________________________________________________________________
Email:This email address is being protected from spambots. You need JavaScript enabled to view it. Phone:(800) 842-6239
__________________________________________________________________________________
Banyon Data Systems partners with RevTrak to provide cities with the best way to receive money from residents. Save valuable time for city personnel and residents by using a personalized RevTrak® Web Store to collect utility fees. Collect fees online, by mail, or in person using a card reader at the city office.
__________________________________________________________________________________